"Life is like riding a bicycle: you don't fall off unless you stop pedaling."
— Claude Pepper
Given that our offices here at Legislative Intent Service, Inc. in Woodland, California are located next door to the university town of Davis, which prides itself on being the bicycle capital of the world (as well as home to the United States Bicycling Hall of Fame), we thought we might "gear up" our clients with this update on recent California legislation affecting the cycling community.
Have you ever found yourself staring in awe at a cyclist blowing through a stop sign and thinking to yourself, "Wow, that person just broke the law!" but then sort of dismissing it since the cyclist in essence had the right-of-way anyway?  Davis motorists are certainly used to letting these kinds of things slide.  But there is new legislation coming your way in California that eliminates the illegality of these cyclists' actions under the guise of making the roads safer.  Assembly Bill 1103, relating to bicycles and yielding, proposes to amend Vehicle Code section 21200 to state the following:
… a person operating a bicycle approaching a stop sign, after slowing to a reasonable speed and yielding the right-of-way to any vehicle or pedestrian in the intersection or approaching from another highway or street so closely as to constitute an immediate hazard during the time the person is moving across or within the intersection, may cautiously make a turn or proceed through the intersection without stopping. However, if required for safety, the person shall stop before entering the intersection, and may proceed after yielding the right-of-way.

Based on a 1982 Idaho law and a subsequent University of California, Berkeley study in 2010, the author, Assemblymember Phil Ting, claims that this type of yielding of bicycles, affectionately known as the "Idaho stop," has been proven to make things safer for cyclists and motorists alike.

Apparently, yielding instead of stopping makes it safer for cyclists because they spend less time at intersections.  Read the study if you are a doubting Cyclist.
After all, we may not want to admit it, but California cars do something similar at intersections dubbed the "California stop" or "Hollywood stop."  Although the "California stop" will likely never become officially legal, California drivers may be accepting of these new changes for cyclists.  Who wants to get off their bicycle anyway and exert the effort to start the momentum on one's bicycle all over again, especially on a hot summer California day?
Interested in other 2017 California legislation involving bicycles? Believe it or not, there are 36 bills currently pending in the Legislature involving bicycles.  Ride on over:
Senate Bill 1 (Beall) – Governor Brown's fuel tax increase bill sets aside $100 million/year for infrastructure improvement for bicycles and pedestrians
Assembly Bill 694 (Ting) – gives cyclists an entire traffic lane under certain scenarios where it is unsafe to share it with cars
Assembly Bill 1218 (Obernolte) – extends exemptions regarding bicycle transportation plans from the requirements of the California Environmental Quality Act (CEQA) until 2021
Have we researched California bike legislation before?  Yes!  Our archives include Assembly Bill 2268 of 1993, which added Vehicle Code section 21212, which requires minors to wear bike helmets.  The author's file alone for this bill is comprised of 1400-plus pages!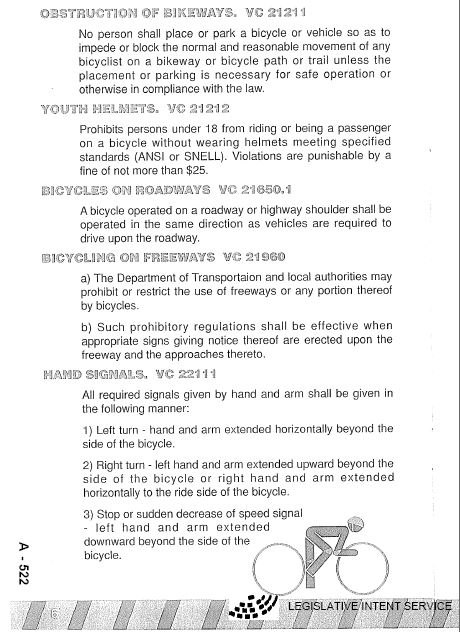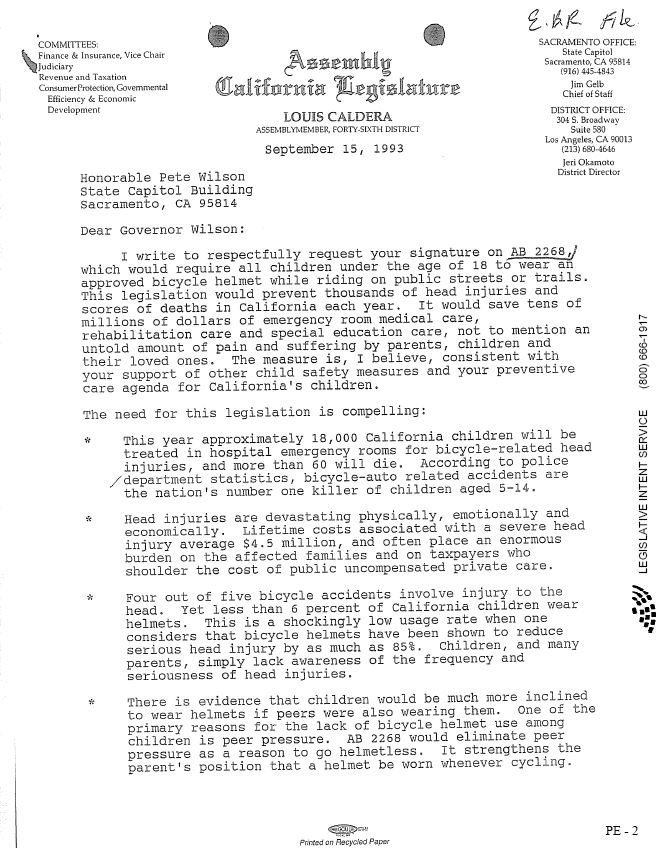 We've also researched Senate Bill 939 of 1976, which affected Vehicle Code sections 21202, 21209 and 21966 among other sections, which established "uniform rules of the road for bicycles …"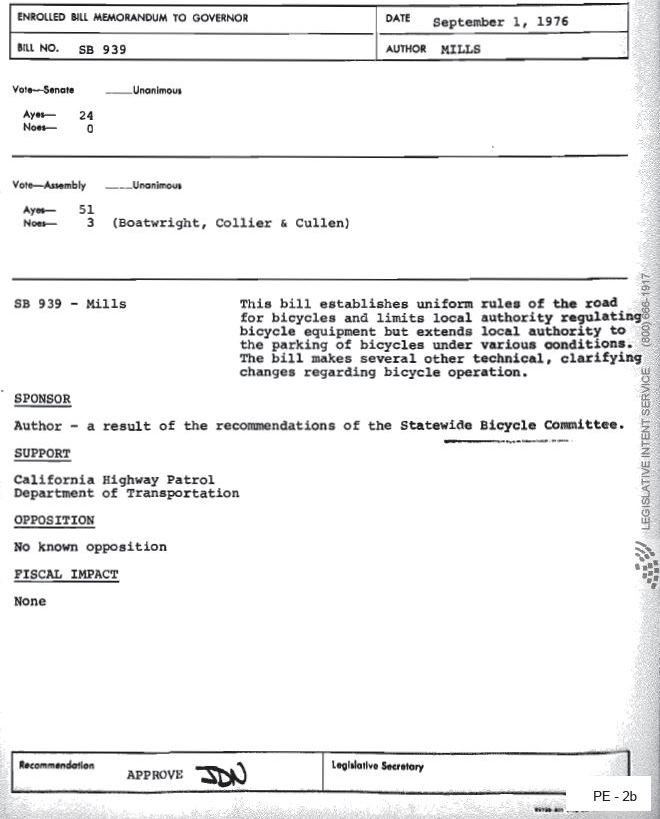 Here at LIS, we can get you legislative history materials on any of the bills mentioned above, even that elusive Idaho bill!  Don't forget, we provide our clients with out-of-state materials.  Just ask!