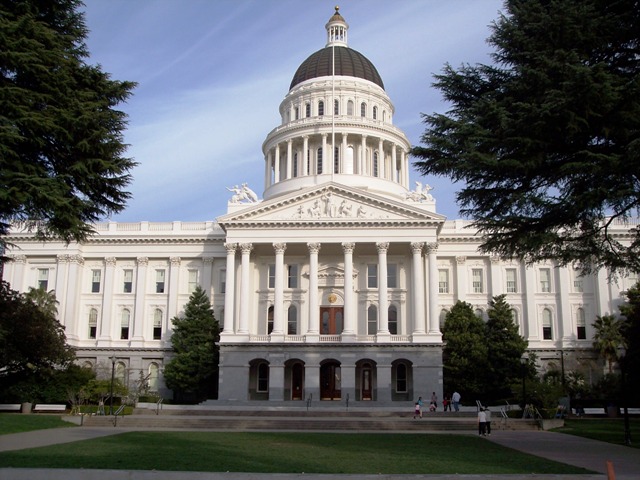 "Sacramento Capitol" by Sascha Brück – Own work. Licensed under CC BY-SA 3.0 via Wikimedia Commons
With the Legislature on its summer recess, now is a good time to look back at some of the proposals that have died or stalled this legislative session.
AB 213 was all about LED bulbs. It would have prohibited the State Energy Resources Conservation and Development Commission from adopting a color rendering index value greater than that set by the federal EPA's Energy Star Program. As the Lighting Research Center tells us, the color rendering index, or the CRI, is "a measure of a light source's ability to show object colors 'realistically' or 'naturally'" as compared to incandescent light or daylight. AB 213 was amended once, set for a hearing, then failed passage in committee.
AB 335 would have added a new chapter to the Health and Safety Code requiring the Air Resources Board to promulgate regulations classifying minor air quality violations. The agency would then be required to report to the Legislature by 2020 regarding implementation of the bill. The California Chamber of Commerce noted this bill would have restored CARB's Minor Violation Program. AB 335 was amended once, to exempt those air pollution control or air quality management districts that have programs with similar provisions from compliance. This bill also died in committee.
Last, perhaps one of the highest-profile bills that have stalled thus far this year was SB 128. Named the "End of Life Option Act," and introduced after the story of Brittany Maynard became national news, SB 128 was based Oregon's "Death with Dignity Act" and would have allowed doctors to provide lethal drugs to patients with less than six months to live. Unlike the two bills noted above, however, this one has not failed a vote. Authors recognized that they didn't have the votes in the Assembly to move forward, and cancelled a scheduled hearing. They are shelving the bill until next year, when they could try again for passage.