But what does it mean? is an occasional series where we here at Legislative Intent Service explore the meanings of some legislative terms.
Today's term is the "spot bill." But before we define the term, we offer some background:
The California Legislature has a legislative calendar that contains deadlines for when certain actions have to occur. For example, for the current legislative session (2015-2016), January 22 was the last day for any Assembly committee to hear and report to the floor bills introduced in their house in 2015. February 19 will be the last day for bills to be introduced in the Assembly.
However, sometimes lawmakers intend to produce a measure, but have not yet hammered out all of its details. In order to comply with legislative deadlines, instead of introducing the fully fleshed out proposal, a lawmaker may instead introduce a "spot bill." The spot bill is a nonsubstantive placeholder whose contents will be replaced with substantive provisions at a later date.
It is not unusual for budget-related bills to begin their lives as spot bills, likely because the negotiations that go into creating a budget can sometimes be lengthy.
Assembly Bill 109 of 2011 is one example.
AB 109, as you may well know, was the massive criminal justice realignment bill of 2011. It began its life on January 10, 2011 as a spot bill. It was a single-page, single-section bill that simply gave a statement of legislative intent: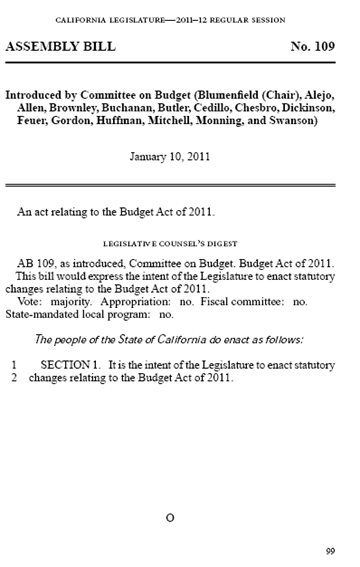 When it was amended on March 14, the bill grew to more than 600 pages, and it affected numerous sections of several codes. Its goal was to realign "certain low-level offenders, adult parolees, and juvenile offenders from state to local jurisdiction."
The governor's proposed 2011 budget suggested these changes were part of an overall scheme to move certain functions from state authority to local authority in order to address a $25 billion shortfall in the 2011-2012 budget: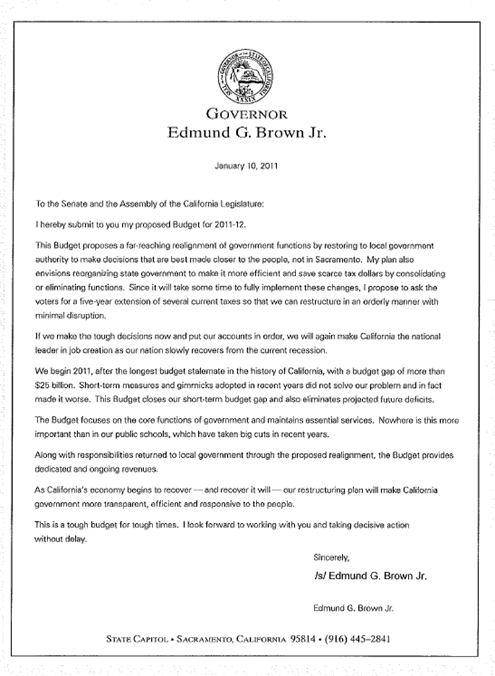 AB 109's other goal was to address a U.S. Supreme Court order to reduce the number of inmates in its prisons.
If you have questions on spot bills, budget trailer bills, new bills, old bills, failed bills, vetoed bills, and even bills written on parchment, we here at Legislative Intent Service can help you find answers. Give us a call at (800) 666-1917 or email us at quote@legintent.com for more information.